1. Required Tools and Materials
For this tutorial you will need:
rings with an aspect ratio (AR = inside diameter – ID divided by the wire diameter – WD) of at least 4

two pairs of pliers without teeth
I will show two ways for the making of this weave, so you may choose the most facile one for you. Also I will use two different size rings, for a loose sheet (WR= 1.68 mm and ID= 8.30 mm) and a tight one (WR= 1.52 mm and ID= 6.25 mm).
2. Step by Step Process
2.1 Facing left Pattern
Put 2 closed rings in one opened ring. Close the ring and arrange the 2 other rings as in the picture (lying on top of each other, from left to right):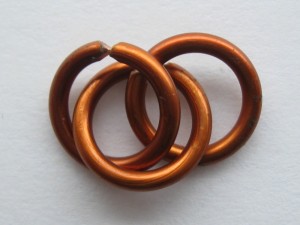 We will name the ring that have 2 rings in it, the little boss, and the other rings, the underlings.
Now pass an opened ring through the underlings, going above the little boss: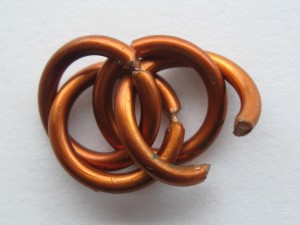 Add a closed ring to it, so you will have 3 in 1 (the one being the boss) and close it. Make sure the new underling is under the others:
Add a closed ring into an opened one and pass them through the last 2 underlings. Close the link and arrange them as in the picture – boss above boss and underling under underlings (the rule):
Repeat the step: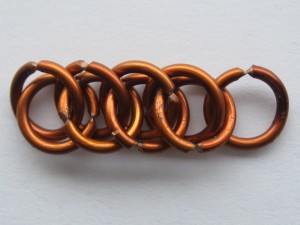 After a while…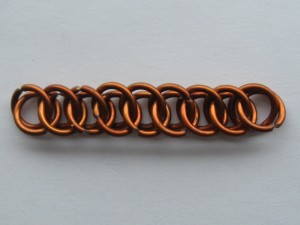 The model gas two faces. If you are doing a tight piece, it will bend only with this face.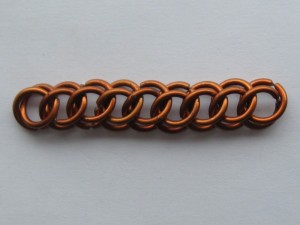 2.2 Facing right Pattern
Close 2 rings and put them into one opened ring. Close the ring and arrange them as in the picture (the underlings on top of each other, from left to right):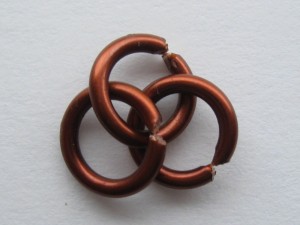 Put a closed ring in an opened ring and pass through the underlings. Close the link and arrange them by the rule:
Repeat the step:
After a while…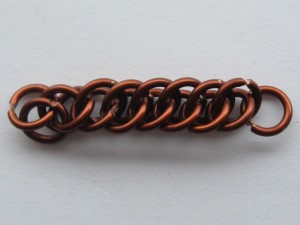 If you have some rebels rings at the beginning of the sheet, you may want to remove and add a smaller ring for the  clasp (in case you are making a bracelet or a necklace). The result will be a nice pattern: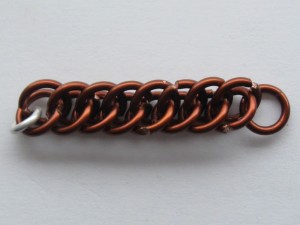 And the bending face: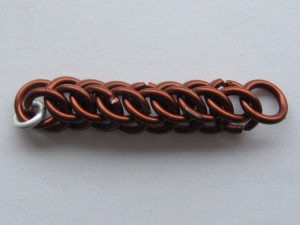 3. Conclusion
Here is a silver half persian 3 in 1 bracelet (WR=0,67 and ID is 3,37) with two faces: