This is the first of a monthly Newsletter Series on Chainmaille and Wired jewelry. It contains 4 interesting wire jewelry tutorials and an inspirational chainmaille piece of art.
DIY Jasmine Celtic Pattern Bracelet – a nice photo wire jewelry tutorial having as result a beautiful wire wrapped bracelet with beads. I will try it for sure!
Birch Leaf Earrings  – want to learn how to make wire wrapped leaf earrings? Fine tutorial, easy to follow and good looking 🙂
Spiral wrapped Beaded Stone Ring – teaching you how to make a nice wire wrapped ring with beads. Give it a try!
Wire Scorpion Tutorial – now lets make a wire wrapped scorpion too! Fine tutorial, many thanks for the author for sharing this with us 🙂
And now for the chainmail piece of art…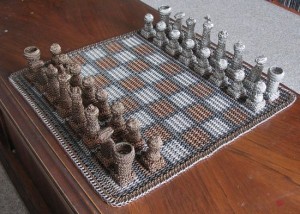 The "Chainmail Chess Set" by designer David Austin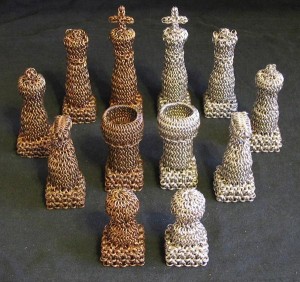 The Chainmail Chess Pieces
Maybe the first of its kind, this amazing chainmail chess set was the result of a great imagination, experience and a lot of hard work.
If you are interested in chainmail, visit Chainmailbasket for interesting articles and great designs.